iFMS: IOT & Cloud based solution
LoudCell iFMS is an intelligent and highly integrated fuel & energy monitoring platform for power generators. The solution is IoT and Cloud based SaaS offering that make use of smart Internet connected sensors. The sensors have intelligence built into them to provide the actionable meaningful information to the customers in an encrypted secure manner and to ensure enterprise class reliability in the face of harsh environment and network failures. Our sophisticated application software makes heavy use of data analytics to provide intuitive user friendly dashboards and reports to the customer. The solution integrates multiple sites and multiple DGs into a single dashboard, which is available to the users 24x7 anytime from anywhere.
Our Architecture

The customers are able to identify sources of energy wastage, poor efficiency, and leakage/pilferage; and take corrective actions. Further, manual processes for data collection and entry are eliminated as all data collection and reports generation is automatic.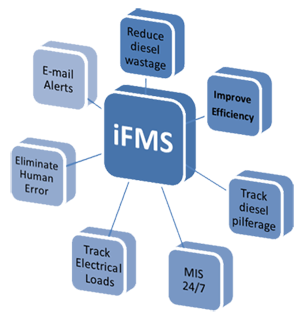 Benefits:
Reducing diesel wastage in DGs,
Improving power generation efficiency,
Tracking diesel pilferage,
Providing 24 X 7 MIS relating to diesel filling, reconciliation and consumption as well as units of power generated,
Tracking all electrical loads – their power consumption, power factor etc. This provides energy reconciliation and monitoring,
Elimination of Human error in data recording,
Ability to generate email alerts of all DG events.
LoudCell iFMS has a powerful web user interface that provides the user with their entire installed base of DGs and fuel tanks via a single window. Customer can use this tool to effectively monitor the operation of the DGs at diverse location. In addition to timely alerts, detailed reports can be accessed and downloaded by authorized personnel.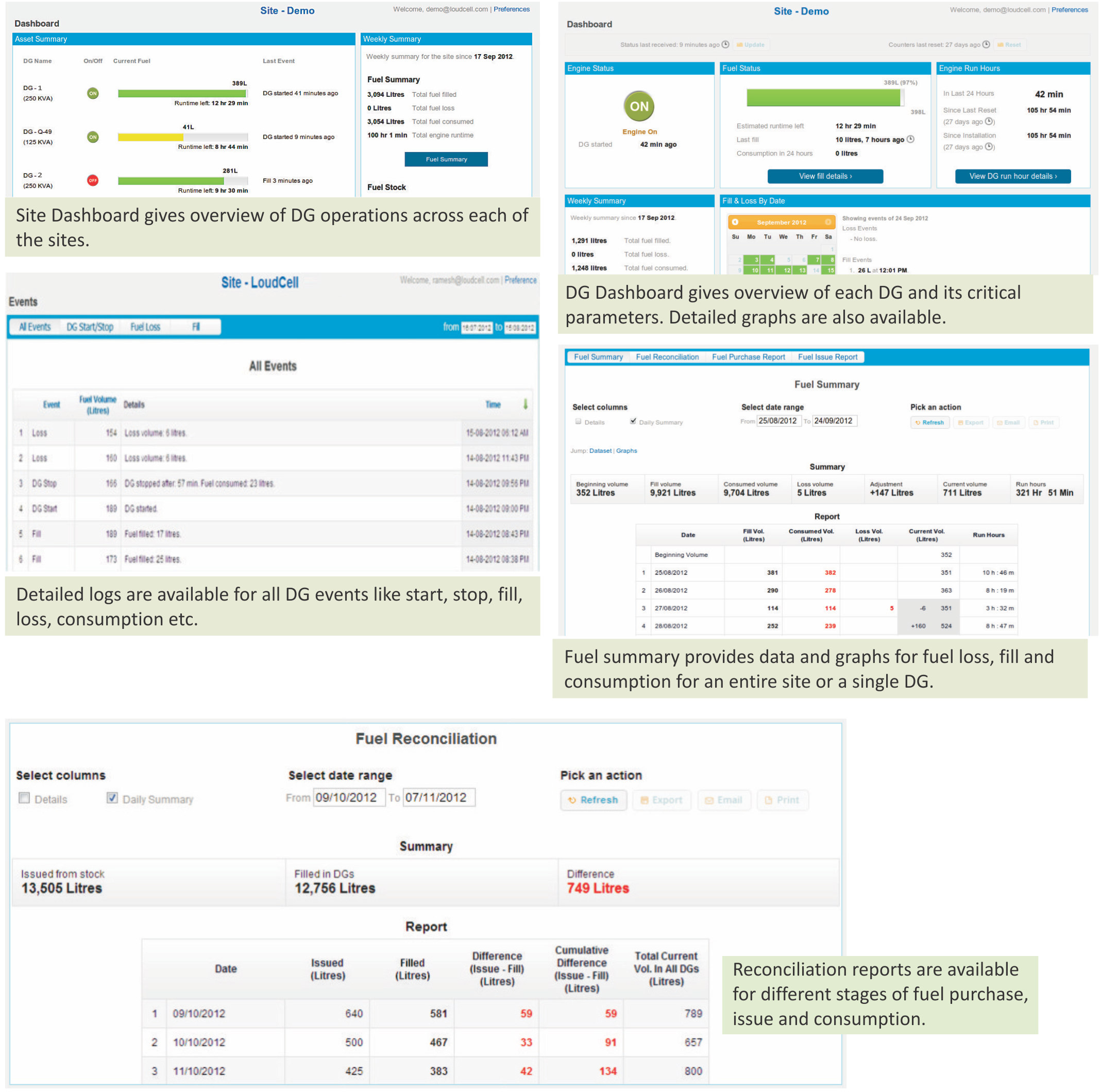 Copyright © 2015 LoudCell Technologies Private Limited. All Rights Reserved. Site by
CITEC